Hello NCM subscribers,
We are pleased to announce the 2017 Nutrition Care Manual updates. This year's annual update encompasses many new resources, formatting changes to improve organization, and other exciting updates that are designed to make the NCM easier to use.
The 2017 NCM updates were published on October 20, 2017.

What's new with NCM Navigation?

Navigation Overhaul
We have made substantial changes to the navigation of the NCM, PNCM and SNCM that remove redundancy to help you get where you want to go faster. Those collapsible green headers in the reading pane of the conditions section (and elsewhere) have been eliminated so that the only content you will see in the reading pane is the content you selected from the navigation pane (see images below). Additionally, you will no longer have a wait for the page to reload each time you select a subject from the navigation pane. These changes will make it easier and quicker to find exactly the content you need. Check out the video tutorial to see these changes in action.
OLD LOOK: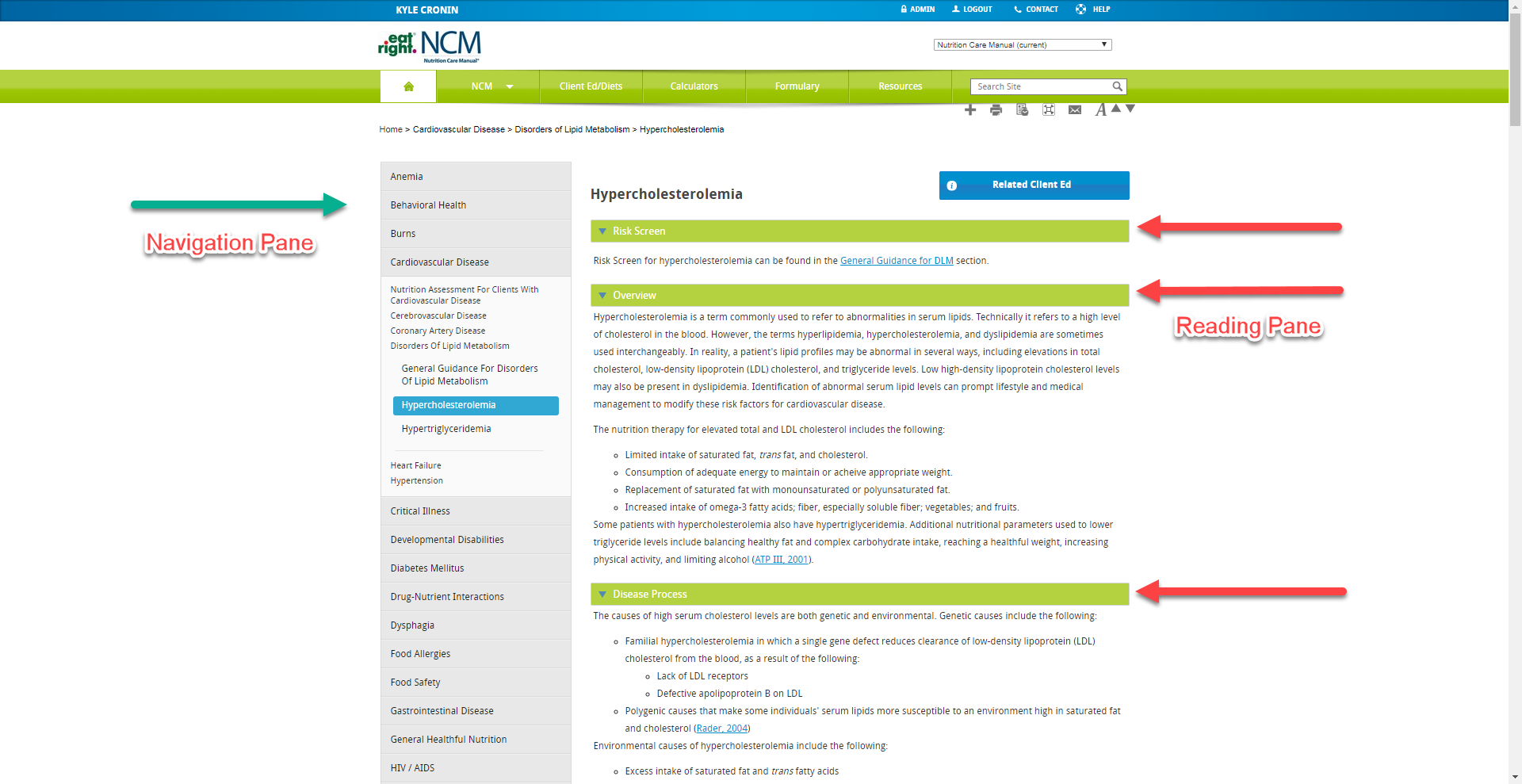 NEW LOOK: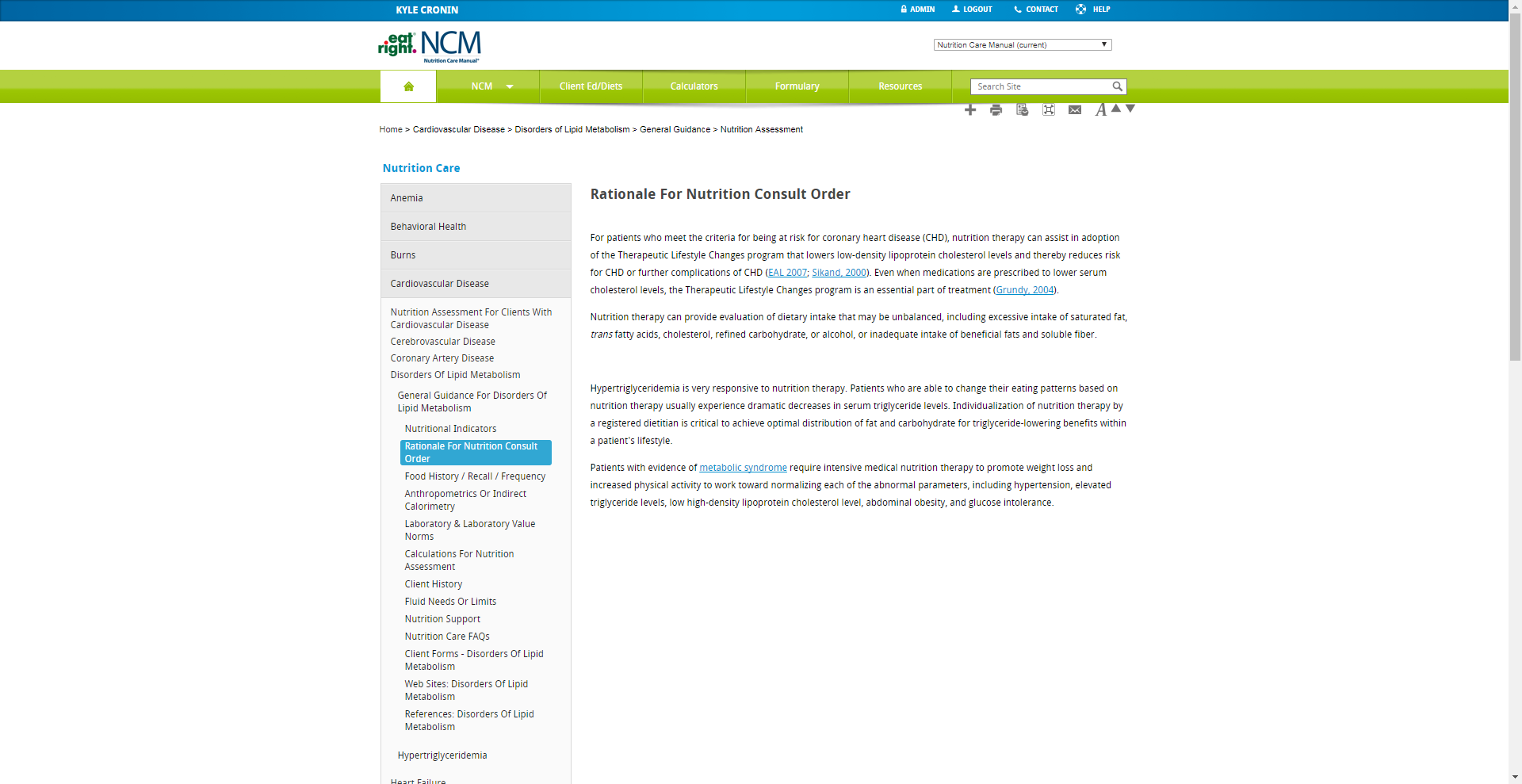 NEW! Client-Ed Menu Nutrient Summaries
Most NCM client-ed pages are linked to sample menus intended as examples to get your clients started with dietary changes. As a professional, knowing the nutritional breakdown of these sample menus is critical to helping your clients achieve their goals. The new client education nutrient summaries change the way you can interact with the menu nutrient summaries, saving time! Each menu's nutrient analysis now provides nutrient breakdowns for breakfast, lunch, dinner and snacks separately along with a daily total! Check out the video tutorial to see how it works.
OLD LOOK: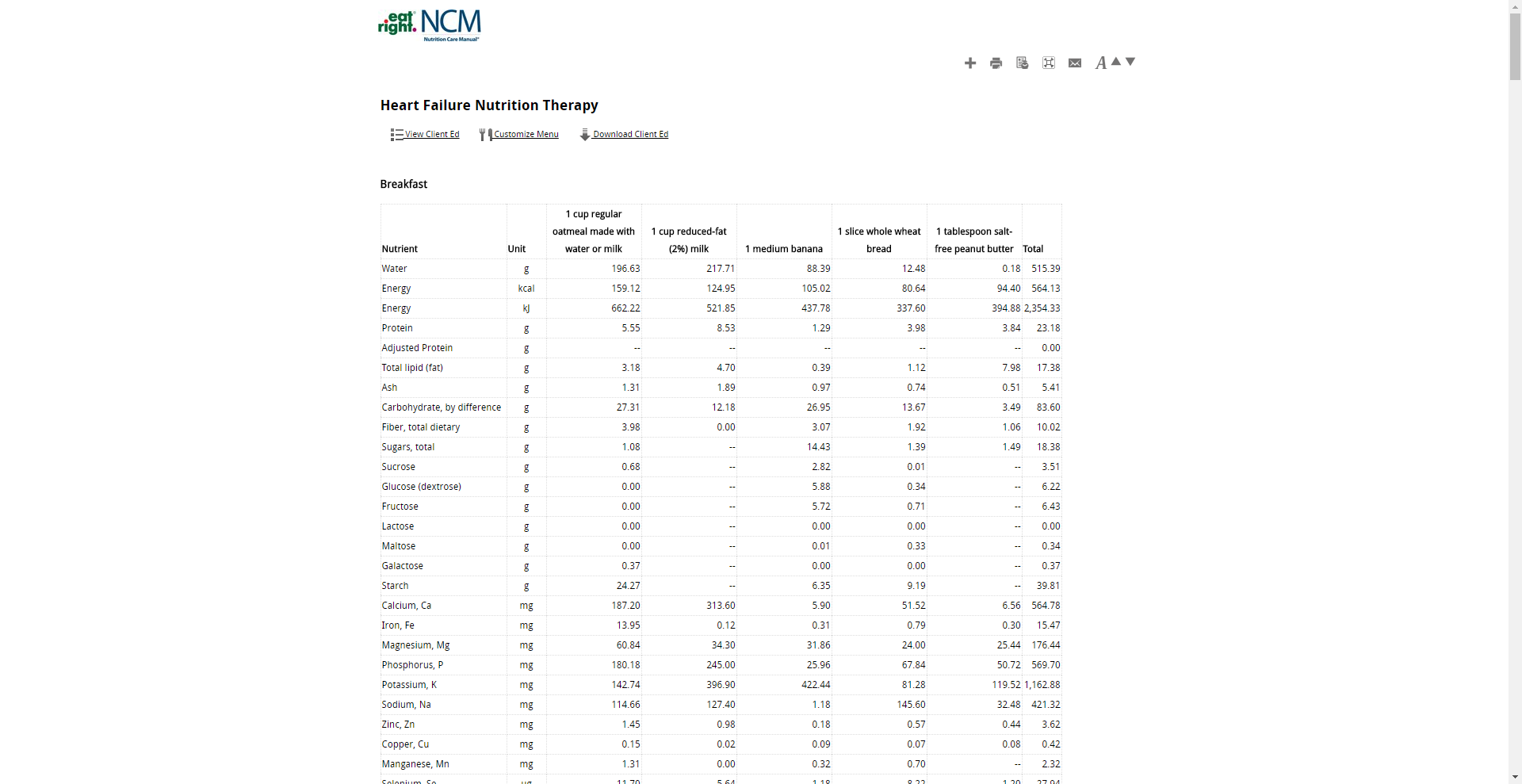 NEW LOOK: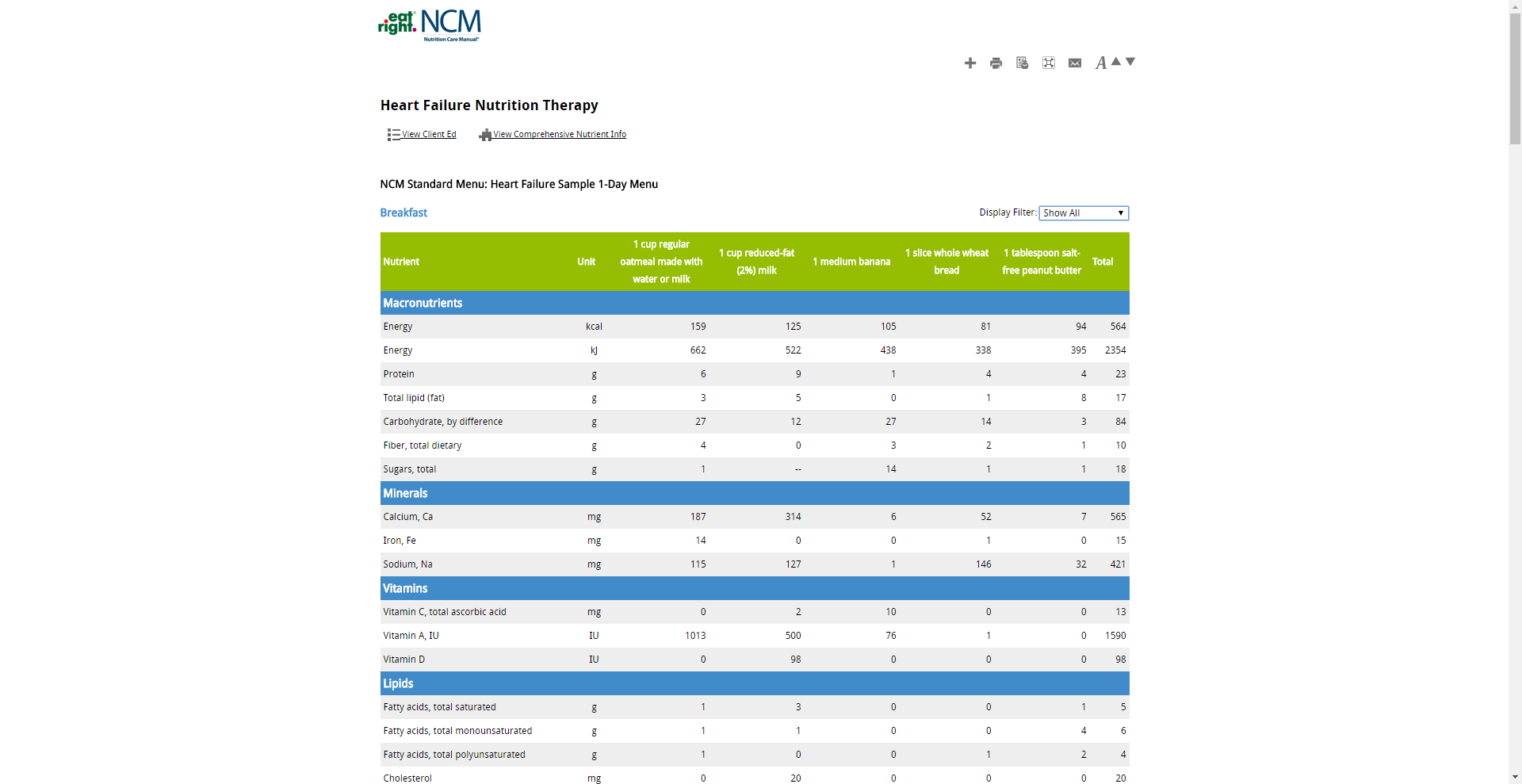 Enteral Nutrition Calculations Made Easier! Formulary Calculations Now Compare Solutions to Your Client's DRI Nutrient Needs
The formulary database contains a massive quantity of nutrient data that clinical dietitians cannot live without. Currently, enteral and oral nutrient summaries can be hard to scan for nutrients of interest and still require the RDN to ensure the appropriate nutrient quantities are being provided to the patient. This calculator update now performs DRI percent calculations for all formulations based on the IOM summary data, filtered by Life Stage Group for dozens of nutrients and then organize nutrient information logically by the categories: Macronutrients, Minerals, Vitamins, Lipids and Other! An upper limit calculation is also performed, and flagged in red to alert you to any potentially hazardous nutrient quantities. This video tutorial will demonstrate how to filter for the appropriate Life Stage Group.
OLD LOOK: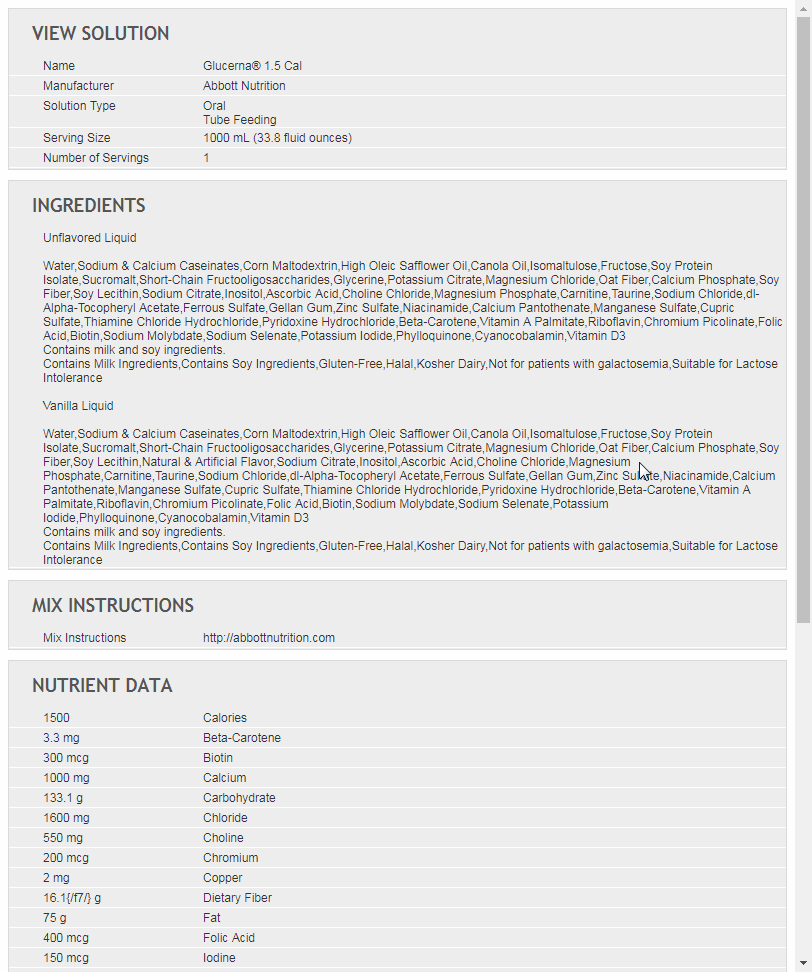 NEW LOOK:

2017 NCM Content Updates
The NCM now includes a concise Diet Manual! This new feature builds on NCM's strong foundation of evidence-based care to provide a convenient tool to easily meet your facility's regulatory needs.
NCM Diet Manual is an electronic resource designed for all healthcare facilities that provide detailed diet definitions with expanded content on foodservice guidance and practical tools. Learn how to implement and customize the NCM to meet your facility's regulatory needs. In addition, this resource features a liberalized house diet and includes resources for all clinical settings. Includes robust review of the International Dysphagia Diet Standardization Initiative (IDDSI) dysphagia framework and IDDSI transition tools for your health care facility's texture-modified diets!

NCM Diet Manual Table of Contents
Diet Liberalization

Diet Manual Implementation

General Guidance

Process for Annual Review and Implementation

Regulations

Meeting Regulations and Preparing for Survey

Regulations for Health Care Facilities

Menu Planning Regulations

Ordering Diets in Your Health Care Facility

Trends in Ordering Diets

Guide to Ordering Diets

Reimbursement

Obsolete Diets and Terminology

Disaster Preparedness

Patient-Centered Dining

Planning A House/Regular Diet

Religious, Cultural and Ethnic Considerations

African American
Asian Indian
Chinese
Ecuador
Pilipino
Hispanic
Jewish/Kosher
Korean
Mormon
Muslin/Halal
Native American
Trinidad Tobago

NCM Diet Manual

House/Regular

Vegetarian

Kosher

Halal

Finger Foods

Texture-Modified Diets

National Dysphagia Diet

Thickened Liquids

International Dysphagia Diet Standardization Initiative (IDDSI)

Clear Liquid Diet

Full Liquid Diet

Consistent-Carbohydrate Diet

Heart-Healthy Diet

Sodium-Restricted Diet

Fluid Restriction Diet

Renal Diet

Food Allergy Diets

Fiber-Restricted Diet

High Fiber Diet

Gluten-Free Diet

Lactose-Controlled Diet

Fat-Restricted Diet

Nourishment and Fortified Foods

Guidance for Post-Acute Care Settings

Corrections

Hospice

Home Care

Clinical Updates
Review clinical updates in the Cardiovascular Disease, Dysphagia, and Gastrointestinal sections!
Conditions Section

Author(s)

Summary of Updates

Disorders of Lipid Metabolism

Penny Kris-Etherton, PhD, RD
Linda Van Horn, PhD, RD
Joann Carson, PhD, RD
Geeta Sikand, MA, RDN, CDE, FNLA, CLS, FAND

New guidance on nutrition therapies for cardioprotective dietary patterns, lowering LDL-c, and lowering triglycerides. Includes recommendations for genetic disorders of lipid metabolism, familial hypercholesterolemia, familial chylomicronemia syndrome, sitsosterolemia, and lipodystrophy syndromes. Find comprehensive answers to your saturated fat and cholesterol questions in the revised FAQ section!

Dysphagia

Mary Rybicki, MS, RDN, LDN

Updated dysphagia recommendations now include the International Dysphagia Diet Standardization Initiative (IDDSI) dysphagia framework and resources.

Short Bowel Syndrome

Jill Murphree, MS, RD

NEW NCM section includes comprehensive nutritional management for short bowel syndrome. Includes recommendations for clients with and without a colon.
Client Education Handouts
Don't miss the expanded and updated NCM client education handouts:
Heart Healthy Reduced Sodium Nutrition Therapy (new)
Heart Healthy Consistent Carbohydrate Nutrition Therapy (new)
Cholesterol-Lowering Nutrition Therapy (new)
Clear Liquid Nutrition Therapy (new)
Full Liquid Nutrition Therapy (new)
Fluid-Restricted Nutrition Therapy (new)
IDDSI Bite Size Food Level 6 (Blue) Nutrition Therapy (new)
IDDSI Minced and Moist Food, Level 5 (Orange) Nutrition Therapy (new)
IDDSI Pureed Food, Level 4 (Green) Nutrition Therapy (new)
Easy-to-Chew Nutrition Therapy (new)
Thickened Liquid Nutrition Therapy (new)
Heart Healthy Nutrition Therapy (updated)
High Triglycerides Nutrition Therapy (updated)
Heart Healthy Cooking Tips (updated)
Heart Healthy Fiber Tips (updated)
Heart Healthy Label-Reading Tips (updated)
Heart Healthy Fats: Omega-3 Fatty Acids (updated)
Heart Healthy Shopping Tips (updated)
Heart Healthy Sterols & Stanol Tips (updated)
Finger Foods Nutrition Therapy (updated)
Tips for Adding Protein (updated)
Tips for Adding Calories (updated)
Tips for adding Fiber (updated)
High Protein, High Calorie Nutrition Therapy (updated)
National Dysphagia Diet Advanced Nutrition Therapy (updated)
National Dysphagia Diet Mechanically Altered Nutrition Therapy (updated)
National Dysphagia Diet Pureed Nutrition Therapy (updated)
Retired Content
As part of our 2017 update, previous content has been retired and will no longer appear on the Nutrition Care Manual website:
Heart-Healthy Eating Nutrition Therapy

High Cholesterol Nutrition Therapy

Heart-Healthy Eating: Soy Protein

Soft Foods Nutrition Therapy

Disaster Preparedness

Ordering Nutrition Prescriptions

Obsolete Diets

We hope you enjoy the 2017 Nutrition Care Manual Updates!

Sincerely,
The NCM Team